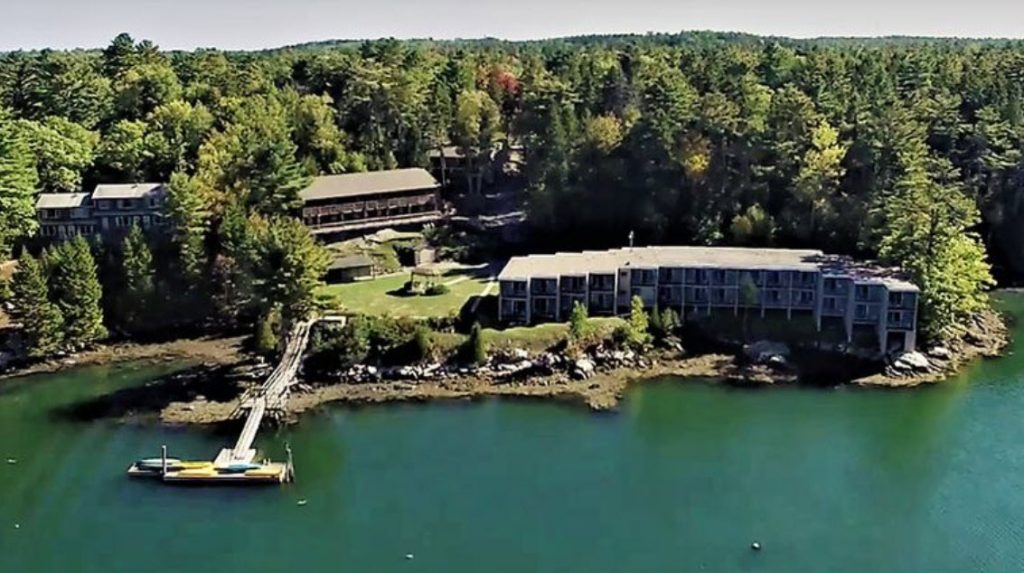 Sale of Ocean Gate Resort signals confidence in Boothbay economy
SOUTHPORT — Thad Paul, purchaser of Ocean Gate Resort at 70 Ocean Gate Road in Southport, sees opportunity in the Boothbay Region's growing visitor market.
Paul, who heads up The Wardman Group, a real estate investment firm in Washington, D.C., purchased the property for an undisclosed sum from the GEM Hospitality Group, which is headed up by Frank Gaynor. The sale, which closed Dec. 1, 2017, was brokered on behalf of both buyer and seller by Nicholas Farrell and Roger Daigle of Daigle Commercial Group in Portland.
Daigle said that he and his group have long been active in selling hotel and resort properties in the midcoast region, including the Boothbay peninsula. A previous sale that he and his associates brokered was the Linekin Bay Resort in Boothbay Harbor in December 2015.
The Ocean Gate deal had its roots a couple of years ago, Daigle said.
Ocean Gate Resort had been of some interest to another potential buyer, who approached Daigle about buying a resort. That prompted Daigle to ask Gaynor if he would consider selling his property. As it turned out, the first potential buyer moved on to other listings, but Gaynor commissioned Daigle's firm to prepare a market valuation, which came in favorably. Gaynor posted the resort with Daigle, which listed it at $5.9 million.
"The rest is history," said Daigle, adding that his firm sells more than 85% of its listings. Daigle and his colleagues had shown midcoast properties to Thad Paul and knew that he was in the market for an oceanfront resort.
A resort with a range of amenities
Built in 1956, the 65-unit property is on 33 acres and has 1,400 feet of ocean frontage and recreational facilities that include a heated pool and hot tub, floating dock with kayaks and canoes, nine-hole miniature golf course, as well as tennis and basketball courts.
Gaynor owned and operated the hotel for 11 years.
Reached by phone in Washington, Paul said he started The Wardman Group two years ago to focus primarily on lodging acquisitions. Along with the Southport property, he also owns a senior housing facility in South Carolina and two small hotels in the Florida Keys. He started the company after a career in hotel administration and general real estate investment.
Paul has traveled to Maine in the past for leisure and had looked at other properties in the midcoast area. This one particularly appealed to him because of its location.
"I really like the market overall," he said. "It's a neat little town. I liked the waterfront location with the 33 acres of land. In addition, it was an attractive price and a property that has good current performance and also good upside potential."
Paul plans to make improvements to the property and operations, including a new website, which has been launched.
"We have about a $1.2 million renovation planned over the next two years," he said. "That's underway already."
The majority of the work is focused on selective upgrades of the guest rooms; modernizing the dining room, including the creation of a separate private dining room that can serve small group meetings; and converting the under-utilized fitness center into a second meeting room.
Overall, he said, the property is in good shape.
"The prior owners had reinvested in the property every year," he said. "So this is just taking what they did and refining it."
He's engaged Scout Hotel & Resort Management as its operator.
Ocean Gate Resort has been a true labor of love for our family, and we couldn't be more pleased with The Wardman Group's interest in it," seller Gaynor said in a press release. "We have complete confidence that Wardman and Scout are the right team to shepherd the resort into its next phase."
Ambitious plans
Thad Paul said the guest-room upgrades include basics like replacing tired carpeting. The meeting room conversion is expected to boost revenue by attracting midweek corporate and association business, which in turn could increase occupancy.
The resort is seasonal, operating May through October.
"Our plan is to increase the season by a week in October," he said. Paul has a marketing campaign to promote the "new" Ocean Gate Resort, which is scheduled to reopen this spring.
Paul cited regional economic development activity, like the Coastal Maine Botanical Gardens, development of hotels and a country club, and road upgrades in nearby Boothbay Harbor and Boothbay, as activities that are helpful for not only for the success of the property but the region's economy.
"I certainly think there's some potential there," he said.